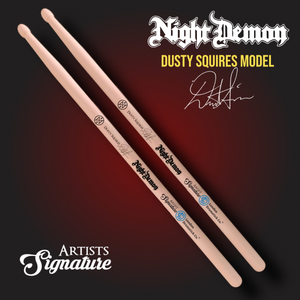 Grab your signature Dusty Squires sticks from London Drumstick Company today! 
These sticks are absolute monsters! A 17 inch 2S model, with an oversized acorn tip, thick neck, made with high-density hickory! 
Dusty's sticks, like the man himself, offer an extreme mixture of strength and power, designed to slay the drums night after night. 
USE YOUR NIGHT DEMON PODCAST CODE FOR 15% OFF! 
L: 43.18 cm / 17″ 
D: 1.60 cm / 0.630″ 
Tip: Large Acorn 
Balance: Front Loaded